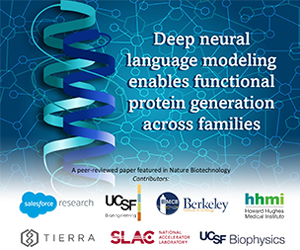 San Leandro, Calif., January 26, 2023 – Tierra Biosciences is pleased to announce the publication of collaborative work - performed with Salesforce and UCSF in Nature Biotechnology, displaying the success of the deep neural language model, ProGen, to generate artificial, functional proteins.
The publication explores how natural language modeling can improve our understanding of complex protein structures and interactions, enabling the generation of novel proteins, de novo. The work demonstrates that sequences with as little as 31.4% sequence similarity to known naturally evolved proteins exhibit similar catalytic activity and efficiency. This suggests that large-scale generative modeling could play a significant role in unlocking the design of a limitless trove of new proteins.
By learning the rules of protein structures, scientists can now design proteins more effectively and efficiently. The ability to bypass the limitations of evolution and generate proteins computationally enables scientists to rapidly create novel proteins based on the functions needed for a particular application. This technology enables a new frontier in protein science, driving a transformation in the way we treat disease, address climate change, and produce materials.
Combining the power of artificial intelligence with the versatility of proteins will lead to an explosion in the number of proteins being designed, resulting in the need for faster, more efficient methods for empirically screening physical protein candidates. In this collaborative work with Salesforce and UCSF, Tierra played a key role in validating numerous ProGen-generated designs, using their high-throughput custom protein production platform. As more protein generation models come online, high-throughput physical protein screening will play an essential role in discovering and validating new, useful sequences for a variety of applications.
"Tierra's high-throughput protein synthesis platform played an essential role in rapidly providing us with the data needed to validate our natural language model, ProGen. We sent Tierra protein sequences and quickly received invaluable expression and activity data, proving our model can successfully generate functional artificial proteins" – Nikhil Naik, Director of Research, Salesforce
"Being able to validate hundreds of proteins from sequences alone in 4 weeks or less really changes the cadence of impact of computational protein design. We are excited to partner with Salesforce and UCSF to highlight the power of computational protein design and on-demand cell-free protein synthesis."  – Zachary Sun, CSO and Co-founder of Tierra Biosciences
Read the paper to learn more about the exciting work from the collaboration between Salesforce, UCSF , and Tierra.
About Tierra Biosciences
Tierra Biosciences is focused on democratizing the world's access to proteins to accelerate the pace of discovering and producing the next generation of bioengineered products. Tierra couples rapid, high-throughput protein manufacturing with the simplicity and ease of web-based customer access. By leveraging cell-free protein production and artificial intelligence, Tierra lowers the barriers to protein synthesis, transforming the way people screen, discover, develop, and produce novel proteins. Tierra is dedicated to serving scientists looking to make world-changing discoveries with bio-based solutions across therapeutics, food and agriculture, materials production, and environmental science.
For more information, visit https://www.tierrabiosciences.com/neural-language-protein-modeling.
Media Contact
Alexis Jacobs
Email: alexis@tierrabiosciences.com
Phone: 510-352-8600