Fast delivery
Place your order and receive proteins and data in as few as 3 weeks.
Scale simply
Eliminate project constraints: order as many proteins as you need, and quickly jump scales to advance the winners.
Access the inaccessible
Gain access to proteins that were previously unavailable, from multimeric protein complexes to difficult-to-express targets.
Gain rapid access to a high diversity of proteins, including ones that are difficult or impossible to produce in common types of laboratory cells.
Remove the guesswork from protein synthesis
From projects involving computational protein design, where you need to test hundreds of proteins to validate your model and zero in on key discoveries, to needing just a few proteins to test your hypotheses, Tierra can quickly meet your needs and remove the guesswork from protein synthesis. This lets you take your design-build-test-learn-iterate cycles to a new level of speed and efficiency so you can make your discoveries faster, immediately scale your best-performing designs, and get critical proteins to market sooner.
Order effortlessly
It's never been simpler to order custom proteins, keeping your research moving at a fast pace. With our web-based ordering portal, you simply upload your protein sequences and leave the rest to us. Your purified proteins will arrive at your lab in as little as 3 weeks. Every dimension of customer satisfaction is our highest priority. Our support team is ready to help you with all your needs.
Accelerate your critical research
Tierra Biosciences works with customers who are making critical advances in developing new therapeutics, improving world food security, creating green consumer products, developing next-generation materials, and making industrial chemical processes clean. By using our high-throughput on-demand protein production services, our customers are accelerating their protein discovery and development efforts to improve lives and global sustainability.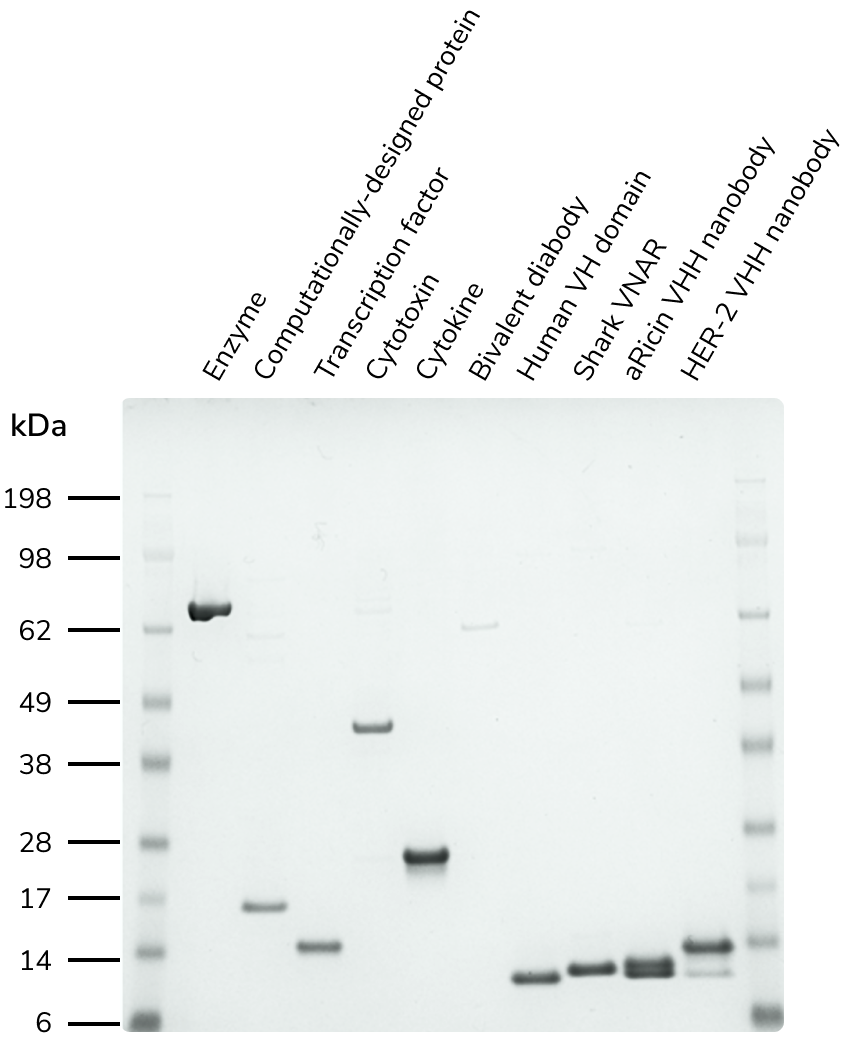 SDS-PAGE of a diverse set of proteins produced by Tierra's protein platform services